'Open your eyes,' Lenoir City father urges Tennessee lawmakers to make changes to guardrails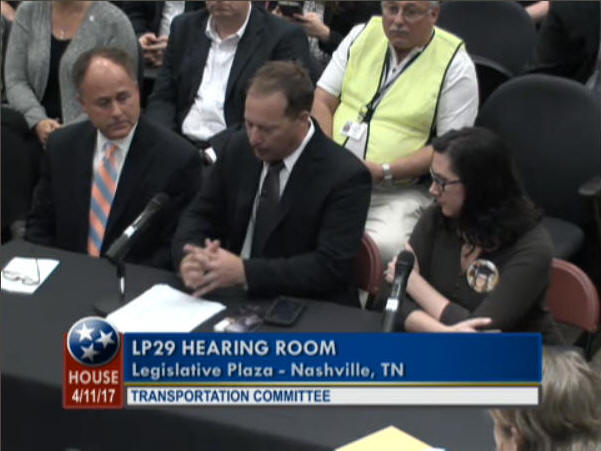 NASHVILLE, Tenn. (WATE) – It was an emotional day at the Tennessee Capitol for father of an East Tennessee teen who was killed in a car crash as he appealed to lawmakers, Governor Bill Haslam and the Tennessee Department of Transportation to make changes he believes will save lives.
In November 2016, Stephen Eimers' daughter was killed in McMinn County when her car went off the road and ran into an X-Lite Guardrail end terminal. The guardrail went through the Lenoir City teen's car, pushing her into the backseat.
Afterward, Eimers said his family was sent a $3,000 bill from TDOT for the device that killed their daughter. TDOT said the bill was a mistake.
"How in the world do you leave a known deadly unit, a device that they have said is not performing properly, how do you leave it on the roadway and play Russian roulette with other people's lives? How do you do that? That is unconscionable," said Eimers, testifying in the Tennessee State House Transportation Committee Tuesday.
Going back to the summer of 2016, state highway workers had concerns about X-Lites, describing installation instructions as unclear, potentially affecting how they were performing. TDOT pulled the X-Lite end terminal from their list of approved equipment, but there are about 1,000 guardrails still installed across the state.
Eimers is accusing TDOT of knowingly allowing dangerous devices that have been linked to at least four deaths to remain on the roads. He shared a list of changes he wants to be made:
TDOT replacing all X-Lite guardrails
To create some kind of system to monitor the location, type, and state of safety devices across the state
Make the deliberate improper installation of a safety device a felony
Add an incentive for contractors to find and repair damaged guardrails
Add independent inspections of all safety devices and damaged safety devices
Develop a policy and procedure to work around damaged safety devices
"Drive our roads and open your eyes," said Eimers. "Last Saturday, I drove from Highway 95 in Greenback to Watt Road on Interstate 40– about 20 miles. Of the 64 terminal end devices that I observed, just seven are safe units that appear to be properly installed."
Eimers said he saw 44 ET-Plus guardrails, a product that was removed from TDOT's qualified product list for safety reasons, three X-Lite guardrails, three guardrails that he thought were improperly installed and five guardrails that had long-term damage.
After the hearing, WATE 6 On Your Side reached out to TDOT for their comment on Eimers' plans.
"We have had multiple discussions with Mr. Eimers over the past few weeks," said TDOT spokesperson Mark Nagi. "All of the Lindsey X-Lite guardrail end terminals will be taken off of our transportation network starting later this spring, with the terminals in higher speed areas to be removed first."