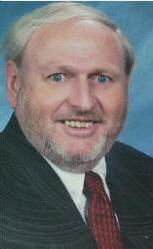 Mills, Melvin Lynn, age 67, of Loudon, passed away March 19, 2017, at home. He was a devoted husband, father, and grandfather. Lynn was a graduate of Hiwassee College and Tennessee Wesleyan College. He was a former employee of Fort Loudoun Electric Cooperative and long time employee of Loudon Utilities where he served as City Manager and Utility Manager. Lynn was a member of the Christian Church of Loudon County in Lenoir City where he served as church treasurer. He also served as treasurer for the Smoky Mountain Christian Camp. He was a member of Lions Club International and served on numerous civic and professional boards. Lynn was an avid golfer and University of Tennessee sports fan.
Preceded in death by his parents, Aaron "Big A" Holmes Mills and Bernice James Crowder Mills, and his siblings George Lee Mills and Aaron Holmes "Bud" Mills, Jr. Survived by his loving wife of 23 years, Sandra Scarbrough Mills; daughter, Kerri Mills; step-sons, Scott and Kevin Curbow; grandchildren Haiden, Justice, and Noah Curbow; siblings, Elizabeth Lee, Bernita Sharpe, Ralph Mills, Herbert Mills and sister-in-law, Wilma Mills, Carolyn Ruth Mills, Charles "Chick" Mills and sister-in-law Donzetta Mills, Martha Burnette, Jeff Mills and sister-in-law Judy Mills, and sister-in-law Bernice Mills; sisters and brothers-in-law, Belinda and Bob Kline, and Donna and Jim Gann; many beloved cousins, nieces and nephews; and special friend and neighbor, Don "Peno" Campbell.
Services honoring and remembering Lynn were held 7 PM Wednesday, March 22nd in the McGill Click Chapel with Rev. Rick Keck officiating. Contributions in memory of Lynn may be made to the "Lynn Mills Memorial" at Christian Church of Loudon County, 12210 Martel Road, Lenoir City, Tennessee 37772.