Loudon County sheriff: Victim identified in robbery, homicide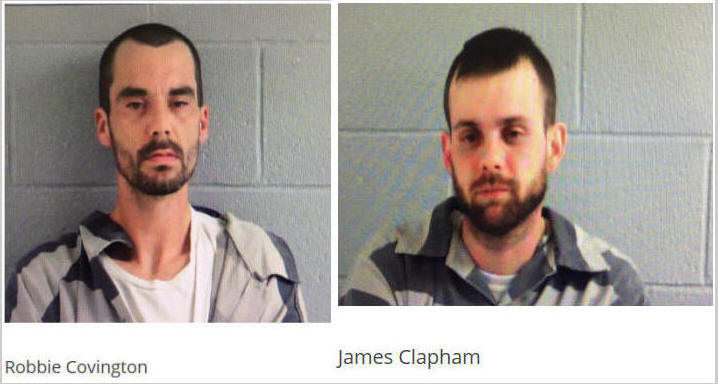 LENOIR CITY (WATE) – Two suspects were charged after a man was shot and killed during a robbery.
Loudon County Sheriff Tim Guider said William "Billy" Roberts was found dead at his home, located at 3032 Dutton Road. Robby Covington and James Clapham were charged with aggravated burglary and especially aggravated robbery in connection with the incident. They are both convicted felons.
Sheriff Guider said Convington and Clapham admitted they knew Roberts had a large sum of money and planned to rob him. Both admitted to the robbery, but blamed the other person for the shooting.
Convington and Clapham broke into Roberts' home with their faces covered and confronted him in his bedroom, according to Sheriff Guider. After getting Roberts' safe open, he said they stole several thousands of dollars in cash, firearms and narcotics, placing them in a pillowcase.
Roberts was hit with a blunt object, according to Sheriff Guider. He was also shot once in the head.
After Roberts was shot, Sheriff Guider said Convington and Clapham left the house, dropping several hundred dollars and firearms. He said they both went to Clapham's father's house in Madisonville and divided the money. Afterward, witnesses told investigators they saw Convington entering his residence with cash.
Roberts' body was found Saturday at around 9:30 a.m. by a neighbor who was performing a welfare check, according to Sheriff Gunther. He said the neighbor saw the money in the driveway and a door that was ajar.
The neighbor immediately notified authorities. When Loudon County Sheriff's Office got to the home, Sheriff Guider said they found Roberts lying across his bed. Three firearms were collected as evidence. Two of the guns were found in a field. Sheriff Guider said he believes one of the firearms is the weapon used to kill Roberts.
Investigators closed Dutton Road to preserve evidence. After talking with neighbors, investigators were able to identify a person of interest and notified the Blount County Sheriff's Office. At 2:00 p.m. a person of interest was detained by the Blount County Sheriff's Office attempting to travel to Texas.
"The investigation is ongoing but I am very very proud to be a leader of such a fine group of people who worked tirelessly." Says Guider. "From interviews, both charged individuals indicated they played a part in certain elements of the crime."
---
Loudon Co. Sheriff identifies victim, suspects in Loudon homicide
LOUDON, TENN. -wbir.com- The Loudon County Sheriff has identified two men facing charges in a homicide Saturday.
Sheriff Tim Guider said in a news conference Sunday that Robbie Covington and James Albert Clapham are facing charges of first degree murder, among others, in the death of a 64-year-old man in his Loudon county home.
Officers found William Roberts dead in his home at 3032 Dutton Road in Loudon with a single gunshot to the head.
An official release says Covington and Clapham entered the home to rob Roberts of narcotic pills and cash money. The two entered the home and confronted Roberts in the bedroom. They then opened the safe and took the cash and narcotic pills. During that time a firearm was produced. Roberts was also hit with a blunt object at least once before being shot.
After shooting Roberts, Covington and Clapham left the scene with a pillowcase full of firearms, narcotics and several thousand dollars. Some of the money and firearms were dropped along the way. Three revolvers were recovered at the scene. Two were found in a nearby field and the other along the side of the road. Deputies said they believe one of those guns is the murder weapon.
The two then went to Clapham's father's home in Madisonville to divide the money. Covington then returned to his home, where at least one witness has seen that money.
The sheriff's office said they got information that Covington was headed to the McGhee Tyson Airport to board a plane to Texas. With the help of the Blount County Sheriff's Office and TSA agents, they monitored people entering the airport and based on a physical description, were able to arrest Covington.
The sheriff's office then learned that Clapham was a person of interest. They contacted him and he voluntarily turned himself in.
Guider said both Covington and Clapham confessed to having some involvement in the crime, but advised that the other shot Roberts in the head. Both also admitted the robbery was planned because Roberts always carried a large amount of money. Sheriff Guider said most of the money taken was recovered.
Guider said Covington is the son of Robert's girlfriend.
Both Covington and Clapham are convicted felons.