Blount County deputies solve 3 burglaries with 2 arrests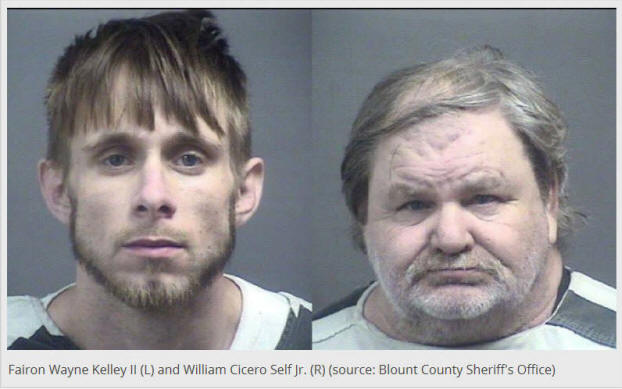 LOUISVILLE, Tenn. (WATE) – The Blount County Sheriff's Office says it was able to solve three home burglaries thanks to the arrest of two men.
William Cicero Self Jr., 61, of Greenback, was arrested Friday and charged with theft of a motor vehicle over $1,000, possession of a Schedule II controlled substance (morphine) for resale, possession of a Schedule IV controlled substance (Xanax) for resale, and simple possession of Schedule III (Suboxone). He is being held on $26,000 bond.
Fairon Wayne Kelley II, 26, of Louisville, was arrested on December 31 for violation of probation. He was still in custody when he was served earlier this week with additional warrants for theft of a motor vehicle over $1,000 and aggravated burglary. He is being held on $8,500 bond.
Deputies say the arrests helped them solve three burglaries since November. A home on Dug Gap Road in Louisville, one on Beulah Drive in Louisville, and a building on Foxboro Lane in Greenback. On January 3, officers were conducting an investigation at Self's home. They believed he was trading stolen goods for narcotics. They found a stolen vehicle, power tools, a game system and a pistol, all connected to the three burglaries.
The January 3 encounter with Self led them to tie Kelley to the operation. Investigators also recovered more than $8,000 in cash and narcotics, including Xanax, Suboxone and morphine.
Additional charges could be filed against both men.