Black tar heroin, meth, pills found after Lenoir City arrest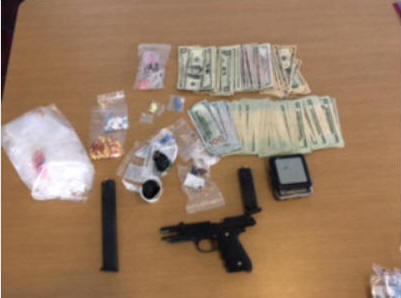 LENOIR CITY (WATE) – During the arrest of a woman wanted for a warrant out of Loudon County, investigators with the ninth judicial drug task force found four ounces of suspected black tar heroin, approximately 15 grams of methamphetamine and numerous types of prescription pills.
Taylor Courtney was arrested for possession of heroin and methamphetamine for resale, possession of prescription pills, possession of drug paraphernalia and a Loudon County warrant for driving on a revoked license. Three others were arrested as a result of the investigation.
Agents said they received information Courtney may be staying in a hotel in Kingston. After following up on the tip, they saw a vehicle matching the description of vehicle Courtney was known to drive.
The vehicle stopped at Love's truck stop in Lenoir City for a short period of time. While the vehicle was exiting, an agent was able to positivity identify Courtney. She was detained.
After Lenoir City Police Department K-9 unit arrived, drug detection dogs found the drugs in her car. Agents also found hypodermic needles, digital scales, and packaging materials.
"Heroin is commonly packaged and sold in quantities of one tenth of a gram. The amount found would provide over 1000 doses when sold on the street," said Brendan T. DeBoer, Deputy Director fo the 9th District Judicial Drug Task Force. "This is a significant amount of heroin and a win for law enforcement in the fight against drugs and the struggle to prevent overdose deaths from and incredibly potent, dangerous drug."
Deboer said a small bag of black tar heroin was also located next to the passenger seat where Daniel Poe of Loudon was sitting. Poe was arrested for possession of heroin.
After returning to Courtney's hotel room in Kingston, agents found two rooms were being occupied by a group. Bryna Williams of Loudon was arrested for possession of heroin and Brian Kirksey was arrested for possession of heroin and methamphetamine. Kirksey was also found to have a loaded 9mm handgun in his waistband that was found to be stolen, according to agents. Additional ammunition and high capacity 9mm magazines were also located.
The 9th Drug Task Force was assisted in this investigation by the Loudon County Sheriff's Office, Kingston Police Department, Loudon Police Department and the Lenoir City Police Department.