911 board investigates cell misuse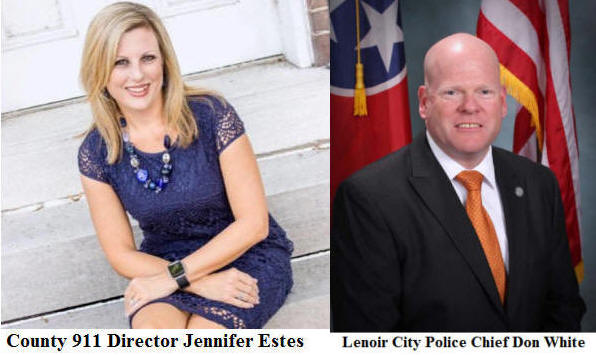 Jeremy Nash News-Herald.net
The Loudon County Emergency Communications Board of Directors is looking into alleged misuse of a governmental-issued cellphone by the E-911 director in exchanges with a board member.
Loudon County Sheriff Tim Guider, who serves as board chairman, said an investigation is underway on cellphone use between E-911 Director Jennifer Estes and Lenoir City Police Chief Don White.
"It has been admitted that there was some misuse of the district's phone," Guider said. "Other than that, it's more of a personal-type thing I guess."

The investigation has been ongoing since mid-January, and is "winding down" at this point, Guider said. He could not comment on how long the exchanges between Estes and White occurred.

"Nothing has taken place yet," Guider said regarding disciplinary action. "We've been (in) discussion with some — getting legal advice and ... I've been working with an attorney, too, talking about our legal remedies to this. I can't comment really until I finalize our consultation with legal authorities. I suspect something will be done."

Guider said he has reached out to Loudon County Attorney Bob Bowman and others for legal counsel.

The board is only looking at Estes' district-issued phone, Guider said, noting it has no authority on White's Lenoir City-issued phone. Guider said he could not comment on White's usage.

A public records request has been sent to Lenoir City Mayor Tony Aikens requesting information on White's cellphone use. The News-Herald asserts such information is public record since taxpayer funds are used to provide White's cellphone.

"Of course, I'm not on the 911 board and I see it as a personnel matter and we don't talk about personnel matters, as you know, and personnel matters is dealing with — and from what I know about it anything that did occur occurred off duty is my understanding and so that's all I'm going to say about that," Aikens said.

Aikens said no evidence has been brought before him "in any way that (White) was on duty."

"Again, I've seen no evidence of that and obviously I'm not going to — if somebody wants to bring me something to the contrary I'll look at it," Aikens said. "That's sort of a hypothetical question, I guess."

Estes declined comment, and White did not return a call seeking comment.

The 911 board meets at 1:30 p.m. the third Thursday of every month at the Loudon County E-911 Center, 500 John Parris Drive, Loudon. The next meeting is scheduled for 1:30 p.m. Thursday.

"There's no indication that there was anything during any working hours," Guider said. "From the investigation we've done — there's no proof of any wrongdoings during any one of them's normal working hours."

Should White step down from the board, Loudon County Mayor Rollen "Buddy" Bradshaw would be responsible for filling the vacancy, Guider said.

"That's a county mayor appointment and that certainly would be something that would have to be done by the county mayor or by an individual decision of his own to step down," he said.