Fore Note: This is the duplex on the corner of Shaw Ferry and Simpson Roads.
---
3 women saved from burning home, officers honored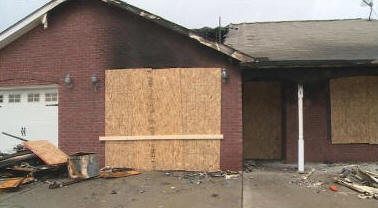 LOUDON, Tenn. (WVLT) -- Freezing temperatures and a duplex consumed by flames didn't stop three officers from putting their lives on the line on Friday, February 9.
The Loudon County Sheriff's Office honored deputies Brandon Pesterfield and Brandon Dishner and Lenoir City Police Officer Lt. Jeremy Dishner for saving the lives of three women inside the home.
Diane Robinson was one of the women rescued. She told Local 8 News reporter David Ball Thursday that she takes care of two other women, one who is blind, and one who is mentally challenged. She said when the fire started, she was fast asleep and if it weren't for the officers she and her roommates would never have made it out alive.
"I heard someone banging on my door saying, 'Sheriff's department, you have to get up and out, the house is on fire.' It seemed like it was a dream, but it was real," Robinson said.
Loudon County Sheriff Tim Guider said deputy Brandon Dishner first made it inside by breaking a window, then escorted the first elderly woman through the front door. Guider said another woman was found before Robinson, who was located in a back bedroom that was locked.
"My main concern was getting those ladies out alive," Brandon Dishner said.
Deputy Pesterfield said it was his training and adrenaline that kicked in.
"It's a crazy feeling, that's what you sign up to do this for, that's what we do every day. I'm just glad they were not injured and we could help them out," Pesterfield said.
Three other people were living in the other unit of the duplex. One woman told Local 8 News she and her family made it outside before police arrived and tried to wake their neighbors.
All families were taken by the Red Cross to the Econo Lodge in Lenoir City for housing.
Deputies Brandon Dishner, Brandon Pesterfield and officer Jeremy Dishner all received life saving awards on Thursday. Mayor of Lenoir City Tony Aikens also dedicated February 15 as a day in their honor.